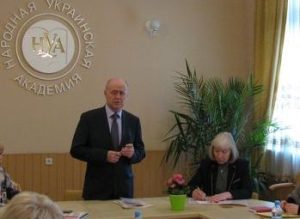 On November 2, the rector held a workshop with the Co-Chairman of the Board of Trustees, the director of the Kharkiv Regional Center of Evaluation of Education Quality, a member-cor. of APN of Ukraine, Doctor of Sociological Sciences Oleksandr Sydorenko.
The topic of the workshop is functioning People's Ukrainian Academy under conditions of war as well as prospects for the academy development.
The guest noted PUA's significant contribution to peace-making efforts, a fast pace of restoration of the destroyed building and the high-quality university admission campaign of 2022.