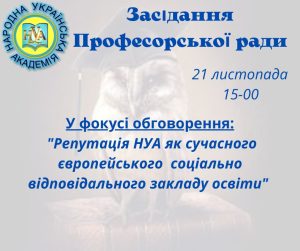 On November 21, another session of the PUA Professorial Council took place. This time they discussed the reputation of the complex of continuous education as a modern European educational institution.
Based on the theoretical foundations of reputation building, which were presented by Prof. Astakhov V.V., the Council paid attention to the bright indicators of the People's Ukrainian Academy in national (TOP-200, Consolidated, representation in Scopus) and international rankings (Webometrics, Multirank, World University Ranking); discussed reputation management practices used in PUA; indicated the potential of the international scientific conference as one of the means of forming and maintaining reputation, etc.
It is important that the participants of the session not only noted the positive features of the reputation portrait of the People's Ukrainian Academy, but also identified the tasks that can be solved precisely with the help of the Professorial Council in the present day situation and in the future.