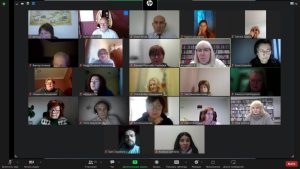 At the session of the Academic Council, there were discussed the most relevant issues, among which the information about the Institute of Affiliated Professors and the experience of its implementation in the People's Ukrainian Academy took a special place.
Not only specialists and professors of the academy took part in the discussion, but also the professor of corporate management of the Free University of Scania (🇸🇪 Sweden), who has been cooperating with the Department of Economics and Law since 2019 - Sven-Olof Collin, as well as the professor of the partner university Dr. sociol. of Sciences, professor, Institute of Sociology of the University of Szczecin (🇵🇱 Poland) - Oksana Mykolaivna Kozlova.
Doctor of historical sciences, professor of the Pomeranian Academy (Poland 🇵🇱) Roman Tomaszewski participated in absentia.
During the discussion, effective tools of systemic cooperation were found within the scope of scientific, methodical, project work and the educational process.
We hope that the development of the Institute of Affiliated Professors will contribute to the expansion of international relations, increase competitiveness and improve the image of the People's Ukrainian Academy.