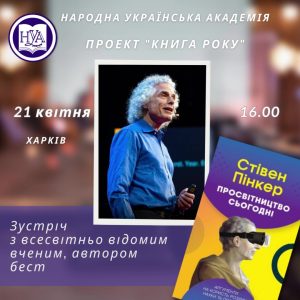 As part of the project named "The Book of the Year", PUA read a book of Canadian and American researcher Steven Pinker " Enlightenment Now: The Case for Reason, Science? Humanism, and Progress".
On the 21st of April the final event of the project took place, it was the author of the book, a Harvard University professor Steven Pinker who attended the meeting of PUA community. A remarkable event in Kharkiv!
The author proved that the mankind is living in a better and a more humane world though everyday news may show the opposite. Steven Pinker strongly believes in human intelligence and its triumph.
The recording of the meeting is available by the link https://youtu.be/yQSJlLN2Ys0