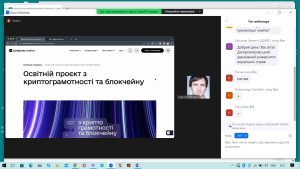 On May 11, teachers and masters of the Faculty of Business Management listened to a presentation of the course "Crypto Literacy and Blockchain" offered by the Ministry of Education and Science of Ukraine.
In accordance with the educational program of the faculty, the teachers of the Department of Economics and Law believe that this course (after its finalization by its developers) can be used in the 4th year as an elective or supplement (separate module) to the course "Commercial Operations and Risk Assessment". According to the information provided, the course will be available in September–October 2023 at a time convenient for students.
The course program consists of several modules, each of which ends with a test and a certificate. The course is intended for everyone, but will be useful for senior students.