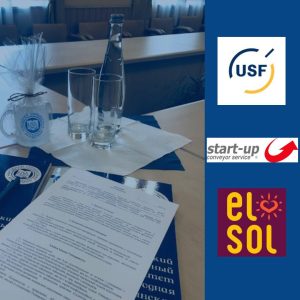 The solemn signing of cooperation agreements with old friends and new partners on the eve of the Academy's birthday has already become a tradition.
This year the Academy has signed agreements with three companies. Among them is the School of Foreign Languages "ElSol" (https://elsol.com.ua/ ), the founder of which is a graduate of the "Referent-interpreter" department Olga Kliuzko. For more than 10 years, the Academy has been cooperating with the School on internships, training and employment of students and graduates. Recently, the areas of interaction have expanded towards scientific and educational work, exchange of experience in training specialists – this became the basis for signing the agreement.
START-UP LLC (https://www.start-up.ua/ ) is a new partner of PUA. It has been operating on the Ukrainian market since 2009 and is engaged in the supply of components for industrial equipment, conveyor service. The parties agreed to cooperate in the fields of educational and methodological, research and educative work, and mutual exchange of experience with the aim of improving the quality of specialists training, consolidating theoretical knowledge and their practical application in production.
In April this year, the Innovation Development Fund (Ukrainian Startup Fund, https://usf.com.ua/) invited PUA to cooperate in the implementation of scientific projects for the development of the innovation ecosystem in Ukraine. Therefore, the signing of the Memorandum of Cooperation became a consolidation of these relations. The subject of the contract is partnership in media and information support; spreading the information about activities on own information resources; conducting joint information events; organization and holding joint events, including those aimed at the exchange of experience between the parties.
We hope that these agreements will result in fruitful cooperation, development and strengthening of partnership!