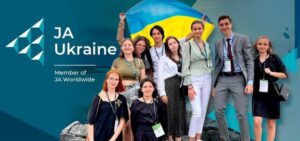 NPO Junior Achievement Ukraine starts a two-year program EU4Youth Project Social Entrepreneurship, which aims to enable young people's employment and promote social changes through social entrepreneurship.
The PUA is one of the participants in the project (along with Kharkiv leading universities). Yet this line of activity is not new to us at all. For twelve years, high school students from the Secondary Economic and Law School (PUA) and other schools from Kharkiv have been involved in Entrepreneurship School social and educational Project. Social entrepreneurship is vital for our city and country, and we value its role in our lives.
Currently, high school and university students from PUA are taking part in the EU4Youth Project on Social Entrepreneurship. If successful, our teams have the opportunity to receive funds from Junior Achievement Ukraine to implement their social projects. We welcome anyone with ideas or a desire to help to join our teams! We are beginning in September.