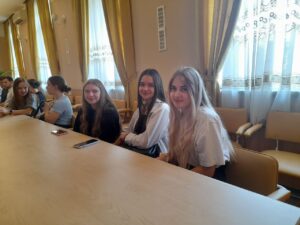 This is the start of our first-year students: for some of them in person, and for others online.
They took part in the first lecture "Ukraine. Kharkiv. PUA. Victory", which was held by Doctor of Historical Sciences, Professor, Rector Kateryna Astakhova; had the opportunity to get acquainted with the peculiarities of the educational process at the PUA (presented by the vice-rector for educational and methodological work, Doctor of Sociology, Professor Kateryna Mykhaylyova), the potential of the CSGI (explained by its director Galina Chinska), visited the museum (the director Nadiya Kovalenko worked and the head of the group of tour guides, a student of the master's of the "Translation" program Pylyp Moskalenko) and the students' chapel (the tour was guided by the head of the trade union organization of the PUA Svitlana Kozyaruk).
Vice-rector for research work, candidate of economic sciences, associate professor Olga Ivanova showed the opportunities for scientific practices at PUA.
Senior students talked about opportunities provided by student clubs, internships and academic mobility.
The head of the psychological service, Candidate of Psychological Sciences Nataliya Goga conducted team building training, and a frank conversation over cake with Ivan Polishchuk, a standard-bearer graduate who is currently fulfilling his duty in the ranks of the Armed Forces of Ukraine, left an unforgettable impression.
We hope that the first-year students felt more confident and have already planned their first steps of further student life at the academy.