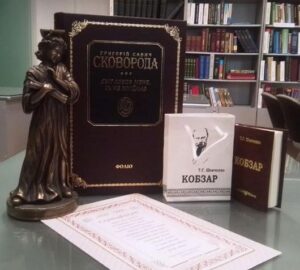 A member of the board of trustees, honored journalist of Ukraine Viktoriya Marenych presented the academy with unique collectible publications: a miniature book of works by T. H. Shevchenko and a book with works by H. S. Skovoroda.
The edition of the works of H.S. Skovoroda is made in a hand-made collector's binding, added with a certificate confirming that 50 copies were printed.
You can get acquainted with new donations to the library in the reading hall.