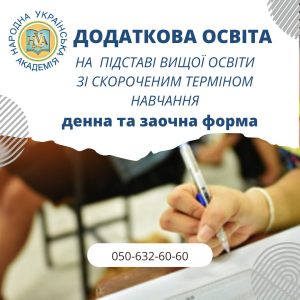 There is no doubt that getting a second higher education is almost must-have now, although on its motives and goals it is fundamentally different from a first higher education. The students and graduates of the Department of Second Higher Education of Peoples' Ukrainian Academy have shared their reasons for getting a second university degree.
The first reason is dissatisfaction with the job chosen under the influence of friends or parents. In such a situation, before embarking on additional education you should carefully consider your choice that may provide opportunities for you to pursue a new career because few people dare to get a third degree.
Secondly, a second bachelor's might qualify you for promotion or advancement. In this case, it is important to analyze which specialty will perfectly complement your basic education.
And the third reason for a person to get a second education is a desire to diversify their life, learn something new, and meet new and interesting people.
A second degree in Business Economics and its Legal Support seems to be a highly relevant option since the knowledge gained in this field can be useful in a variety of other areas. Moreover, education in economics will multiply career opportunities.
The study of foreign languages remains quite relevant (English Language and Translation/Interpreting Program). Getting an English Language second university degree in quality and opportunities incomparable to those offered by language schools.
An added specialization in Translation and Interpreting makes the program even more popular among those who want to learn English.
Sociology (Educational Program "Social and Psychological Support of Human Resource Management") has always been in demand. This field offers a wide range of job opportunities: from the head of the department or personnel manager to PR manager.
This year to be enrolled on the course of Second Higher Education, you can submit all the necessary documents online.
The academic year starts online in September.