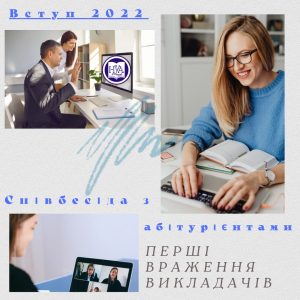 Despite the difficult military situation, the admission campaign is underway.
This year, the admission for some enrollees is after an interview.
Tetiana Berest:
These are the impressions our academic staff are going to share with us.
"The past few weeks impressed me with a great number of rewarding meetings with enrollees. They were young people of different ages from different countries with exciting ideas of life and education.
They are a little bit confused about grammar or vocabulary; however, they are sure that they will catch up on material and promise to do their best to get a good education.
Greatly inspiring are the positive reviews of the enrollees, their favourable impressions of the PUA's teachers, professors, and even the Academy's website."
Olha Ivanova:
"Despite the hard times, we rejoice at the highly motivated enrollees our Academy attracts. They have clear ideas of their individual educational paths and are set on becoming competitive highly-qualified specialists who will further strengthen the image of our Ukraine and promote the country's revival.
During the interviews, the enrollees demonstrated high level of general knowledge, and math competence in particular. Their high motivation and communication skills are also worth mentioning.
Therefore, we have good reasons to believe that their education at "People's Ukrainian Academy" will be successful."
Viktor Kozyrenko:
I was pleasantly surprised by the enrollees' high level of learning motivation. Another rewarding experience is the positive feedback from our school leavers who have chosen the Academy to continue their education due to the level of the teaching staff and the quality of education in 'PUA'.
Being Vice Rector for IT, I am particularly pleased with receiving a good response to the Academy official website.
Meanwhile, we will see how learning motivation will affect the learning process.
Kateryna Astakhova:
The impression from the first interviews is quite unexpected since almost all enrollees are interesting personalities, self-confident, interested in their future profession and eager to learn despite the difference in their knowledge levels.