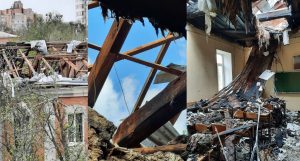 More than eight months ago, after a direct hit, the premises looked terrible and there was a question about the possibility of saving the building at all.
As of January, work on the restoration of our red building is ongoing. The picture shows the 3rd floor, left wing, floor replacement (from the academic department to the dean's office of the Faculty of Arts, inclusive).
We are overcoming. We will overcome.